Comprehensive Medical Billing Services As Low As 2.5%
Avetalive offers comprehensive medical billing services and revenue cycle management for medical practices. We know the industry and will optimize your reimbursements. We know how insurance companies work.
You may need :
Full Medical Billing Services
Administrative Tasks – Insurance To Book-keeping
Checking Benefits Before You See Patients
Avoid Claim Rejections And Claim Denials
Manual Eligibility Check – Zero Rejections
Avetalive Medical Billing Services
Avetalive is a medical billing company. We provide full service medical billing and revenue cycle management for medical practices that leads to increased revenue. We have over 30 years of combined experience and satisfied customers because of personalized outstanding customer service. Our customers prefer our services not only for medical billing to increase revenue but also to check benefits before seeing patients and other administrative tasks.
I have been working with small independent practices for 30 years. So much has changed since I first started. Running and managing a practice is not as easy as it used to be. My 30+ year experience has helped me gain an understanding about how things have changed and how I can help your practice rise to these changes.
Why
Choose Us
We provide 100% Assured Revenue, 0% Rejections, No Write-offs.
Money-Back Guarantee
Medical billing efficiency starts with insurance eligibility. We check patient insurance by calling insurance companies to verify patient demographics, policy end date, and coverage limit. We also obtain pre-authorization for patients' Visits and Procedures as necessary.
We invest time to understand the root of a problem and this helps us to help you prevent rejection and denials in future for efficient medical billing and coding.
We send the final cost to a patient with billing invoice. This done after payment posting based on EOB / ERA.
All unpaid medical billing claims aggressively pursued daily. Dispute and fight improper denials and slow payments.
We assist with payer coordination on patient intake related to coverage eligibility and claims reimbursement.
We work with your existing EMR/EHR and Practice Management Software systems, without imposing a new technology on your practice. We have experience working with multiple EHR systems.
Every Practice is Different. We recognize and respect these differences and work with medical billing for practices of all types; small, medium, solo, with staff, no staff, any specialty.
We integrate as a member of your team, to provide friendly, personal service. We have over 30 years of experience in the billing industry. Our experience ensures we have the knowledge necessary to handle all of the billing and administrative work needed to run a successful Practice.
See what people say about us and why they recommend us
(We are eternally grateful for each of these recommendations)
I contracted Avetalive about two years ago to resolve my burning billing issue of my neurological practice. They aggressively acted on all accounts and in matter of four months, resolved almost 95% of all the collections. My receivable has improved a lot and become less stressful part of my practice. They are very honest and straightforward. Avetalive is an asset to my practice!
You understand the problem even if I cannot describe or articulate it. You have always managed to zero in on the issues. You are a calm in the storm, who never gets tired of our incessant series of questions and never get tired of teaching us. This is important because these systems are central to the success of our business. If there was one feeling when I describe you, that is "relief!" You could be a psychologist.
You are very familiar with the process and the concerns that physicians have in their practices. Throughout the journey, you listen, and you internalize their concerns. This is very valuable to me and makes a very big difference. You came here, you saw my practice, how we do things in this practice, you understood our workflow our strengths and weaknesses and helped us adopt our system in a more effective manner. You were attuned to what we need as a business.
In a nutshell, you're very approachable, honest, forthcoming and helpful. Where necessary, you bring outside resources to assist in the better decision-making process. When I have a problem, and you bring in a solution, there is a level of trust that is implied. I feel like I have a friend in my corner. I can always pick up the phone and call you. Relationships are more important than products. You always understand what I'm asking.
I have always found Chandresh to be very responsive, thorough, and genuinely concerned about resolving any problems that I have. He goes above and beyond, and has the knowledge, passion, and communication skills to do this with great success.
You're the only person (vendor) I have said 'let's catch up and let's go and have a drink!' That shows the relationship and how I feel with you. You're always there for me. You go over and above the call of duty Chandresh is straightforward, trustworthy, great to do business with, you don't scare anyone off. It is difficult to find trustworthy people in any business these days.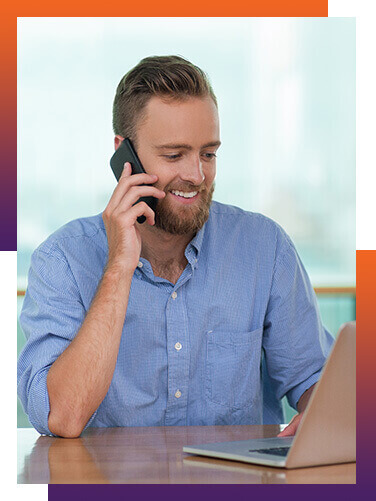 We are always here to answer any questions you may have. Reach out to us and we will respond as soon as we can.
© Copyright 2020 The Avetalive Group